Tips for Homeowners
Owning a home in Texas has its own peculiarities. Below are some tips to keep your home in the best condition possible while you own it.
Water your foundation regularly all year long
In Texas clay soils, watering the foundation is paramount for maintaining its health. If you are using soaker hoses, they should be placed 10-12" from the foundation, so the water is not directly contacting the foundation, but is watering the soil that surrounds the foundation. The winter of 1988 DFW area there was no rainfall for 120 days. This came at the end of summer which is always dry. Many homeowners did not water their foundations that winter and there was significant foundation movement. Some areas in DFW are now approaching levels of drought and foundation movement similar to 1988. Be sure to water your foundation all year long!
Service your air conditioning unit regularly
A/C units are mechanical pieces of equipment and, just like your car, require regular servicing. Due to heavy usage during the summer months, it is advisable to service the unit in the spring, at a minimum, so that it is ready for the summer heat. To take even better care of the unit, have it serviced again in the fall at the end of its hard work season.
During the cooling season from end of April to the end of September we suggest checking "Wilbur's Nose" to see if it is cold and wet. "Wilbur's Nose" is the brass connection where the neoprene insulation ends on the outside A/C unit. A cold,wet nose is a healthy "Wilbur.
If "Wilbur's nose is not cold and wet call the Vet."
Here is a photo of a healthy "Wilbur's Nose."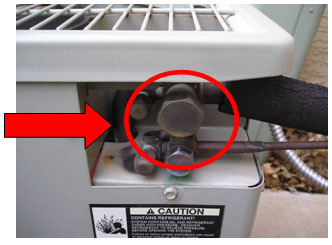 Consider a re-inspection
If you have owned your home for more than three to five years (depending on age of home + condition), consider having it inspected again, to see if there are any important maintenance items that should be tended to. Leaking shower pans, leaking roofs, ailing A/C units are wear and tear that can often go undetected.
Periodic inspections can help prevent accidents or premature wear in the future.
Termite treatment
Unfortunately, termites are a fact of life in Texas. To prevent unnecessary damage from them, be sure that no wood is directly touching the ground, making it easy for termites to begin their tunnel building activities. This includes siding, fences, deck wood, firewood, etc. Ensure that there is a little bit of a gap between any wood and the ground surrounding your home.
Doors
One frequently overlooked construction blindspot -- and very easy maintenance item -- is to paint the tops and bottoms of all exterior doors, so that no raw wood is exposed.
In so many of the homes we inspect, the tops and bottoms of doors have not been sealed, causing the doors to weather far too quickly. This is evident as doors swell and become difficult to open or close, split and/or rot.
We have seen custom doors that cost thousands of dollars that were never sealed and must now be replaced prematurely. Protect your doors! Make sure they have been sealed, leaving no raw wood exposed.
Sprinklers
Check your sprinkler heads in all zones at least twice per year. Look for leaks. Ensure they are pointed in the proper direction, and point away from fences and the walls of the home.
Painting
Be sure to paint the exterior of your home every five years, or more frequently. This will protect the wood from the extreme Texas heat, as well as providing nice drive up appeal, in the event you decide to sell your home. Painting is key to protecting wood from all kinds of weather. Painting in spring or early fall provides longer lasting finish.